Photo: current appearance of Tudor s/n 9082 with a Broadway fingerboard/neck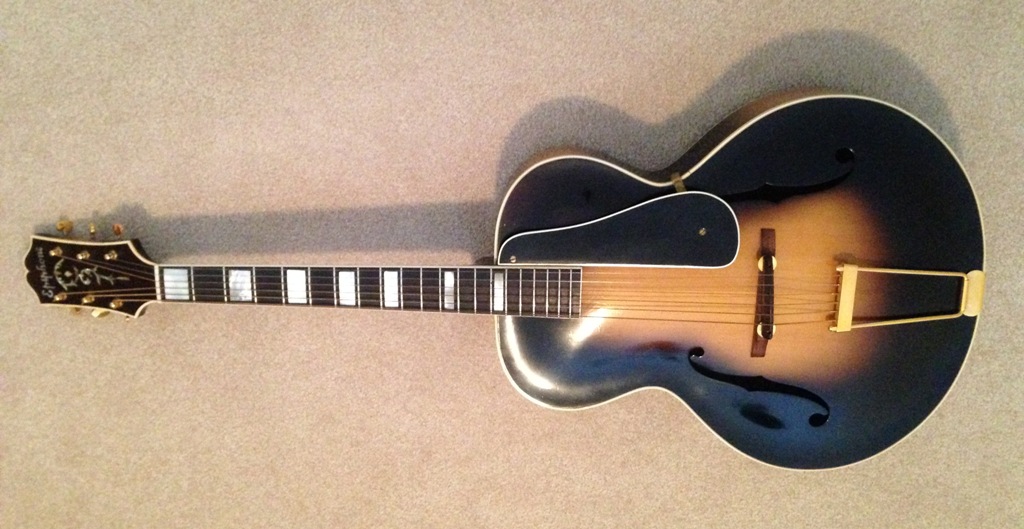 Tudor s/n 9082 : pictures
There are only five Tudors known to exist of which now four are registered. Bert Peters, the present owner of the Tudor s/n 9082,  wrote us December 2014 :
"The 1935 Epiphone Tudor was originally owned by Lemuel McGinness who acquired the guitar while he was an Epiphone representative during the 1930s. Lem was an arranger and percussionist in the US army band during WW2 and always had his guitar with him wherever he went. It saw a lot of use during that time and consequently was sent back to the Epiphone factory for fret repair around mid 1940s
At that time Epiphone replaced the neck with a Broadway vine inlay style neck and refinished the guitar as well. This was done at Epiphone's discretion and Lem had no prior knowledge of it. He was very pleased to get the guitar back in such beautiful condition.
When I first met Lem, the guitar had been sitting under his bed for over 30 years and had strings on it that looked like barbed wire. I let him know what he had and he started to play it again with new interest. He played until he was 100 yrs. and finally gifted me the guitar before his death at 103 yrs."
---