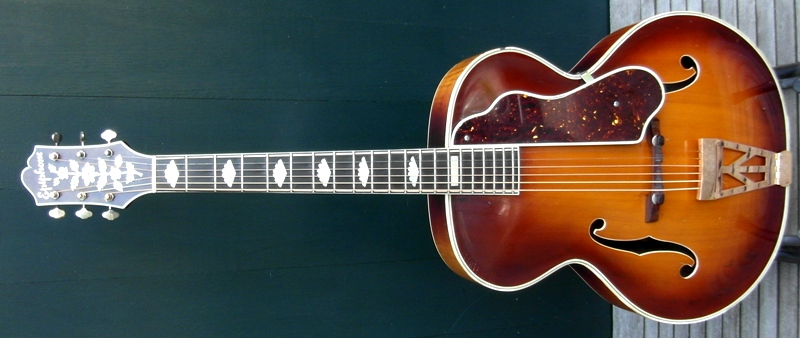 Super De Luxe s/n 9578 : pictures
The instrument has been in on loan for display from May 2017 until August 2019 by Ton van Bergeijk noted guitar and banjo player in the Dutch Swing College band from 2004-2015, in succession to Otto Gobius, Wout Steenhuis, Dick Bakker, Arie Ligthart and Jaap van Kempen. The vintage correct arrow shaped tailpiece on this photo was made by the late John Lambdin. The guitar came in a 17″ hardshell case that reads on the henches "British made".
Ton wrote us November 2014: "I purchased the Super De Luxe in 1986 at Rare & Vintage in London on recommendation of Derek Bailey who at the time toured with my brother Gilius."
Ton sold the Super de Luxe December 2019 to Palm Guitars, who sold it to the current Dutch owner Jan Lukes, who had been looking for a Super De Luxe for more than 20 years.
There is not a lot known about the Super De Luxe. December 1935 Metronome magazine shows an Epiphone ad see picture where the Super De Luxe  (= the advanced 17 inch De Luxe) is introduced together with the new flagship, the 18 inch Emperor. However, the Epiphone catalogs only mention the 17″ De Luxe without the adjectiv "Super". Could it be that Gibson had raised objections to the use of the word Super? After all Gibson had just launched its Super 400. A UK-pricelist shows two De Luxes: De Luxe (16 inch) and Super De Luxe (17 inch). The instrument pictured above is an example of 17 inch De Luxes sold under the name Super De Luxe.
There are only three Super De Luxes we know of : Super De Luxe sn 9433 (currently owned by Scott Tsai), Super De Luxe sn 9578 (the one on this page) and Super De Luxe sn 9579 (no further info so far).
UK pricelist c. 1935 mentions the 17 inch Super De Luxe together with the 16 inch De Luxe (thanks Drew Morrison)