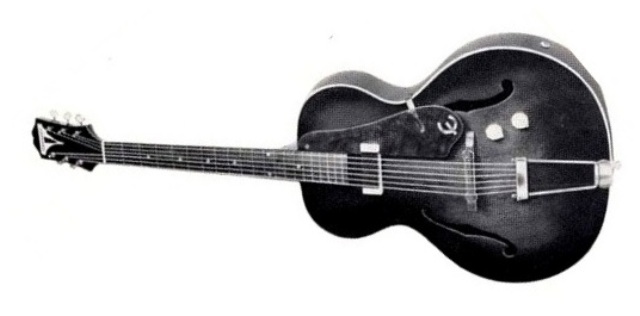 Century Spanish : catalogs 1950 and 1954
The Epiphone Century Spanish electric model was introduced around 1939 and in production until 1957. It started with a 14 3/4″ body, laminated maple arched sunburst top and laminate mahogany, walnut brown colored arched back and sides. Metal parts were plated in nickle. The mahogany neck had a reinforced body-end adjustable thrust rod and a rosewood fingerboard, with single-dot position markers at frets 3, 5, 7, 9, 15 and a double dot at the 12th fret. The top, back and fingerboard were white Pyralin bound. The center dip peghead had a brass logo plate and individual open back tuners with plastic buttons.
The mahogany body increased to 15 1/2″ in 1941 and bacame 16 3/8″ maple in the mid 1940s. The small black pickguard became tortoiseshell, large style in 1941, while in 1949 the "E" logo was added. The handrest master pickup in bridge position lost its handrest in 1941 and became a Large Tone Spectrum with no poles in 1949 and became a Small Tone Spectrum in the neck position in 1950. The back access panel lasted until mid 1940s.
According to Wiedler there are now 74 Centuries registered.
References:
Felix Wiedler, NY Epi Reg
Jim Fisch & L.B. Fred, The House of Stathopoulo, 1996, pp. 109-130