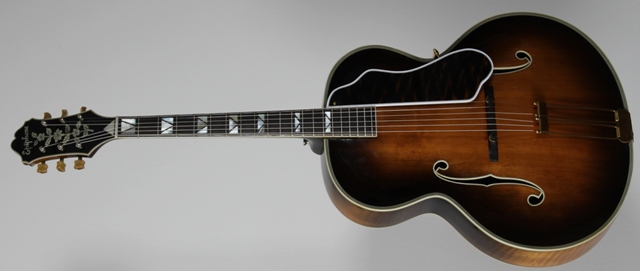 Emperor s/n 9676 : pictures
The museum purchased the Emperor s/n 9676  May 2015 from Dutch archtop player Peter van Weerdenburg, who recently installed a vintage correct tortoiseshell pickguard made by Dutch archtop player Frank Wallboomers. Before that the guitar belonged to Randy Buckner, Springfield, MO. May 2014 Randy wrote us:
" My father purchased the guitar in about 1978 from a local guitar repairman named Charlie Wells. It had been refinished – the color was a weird mixture of a greenish-yellow sunburst that faded to black. Mr. Wells told my dad that he had rebraced the guitar to be played left-handed, and recently returned it to "normal" condition. However, once we got the guitar home the top collapsed within a few weeks. Not trusting Mr. Wells to repair it correctly, and not having another option, the guitar was stored in its non-original case for almost 15 years.
In the early 1990s, guitar luthier Bill Moll moved to Springfield. I contacted him about restoring the Emperor. He removed the top, and rebraced it with an "X" bracing to ensure it did not collapse again. Moll also reinforced the top near the tail-block. He replaced the original binding, due to its deterioration. While refinishing the guitar, Moll decided to remove the black color from the back of the headstock, allowing its beautiful wood grain to be seen. The bridge was handcrafted by Moll, since the original did not come with the guitar. On the lower bout, a hole where there used to be an input jack, has been expertly fixed by Moll. I have no idea how this guitar came to live in Springfield."
Video Randy's dad on Emperor 9676 : click here
NOTE : The f-holes on the very early Emperors run more parallel to the strings and have a length of 7½ inch, which is a ½ inch more than those of later years.