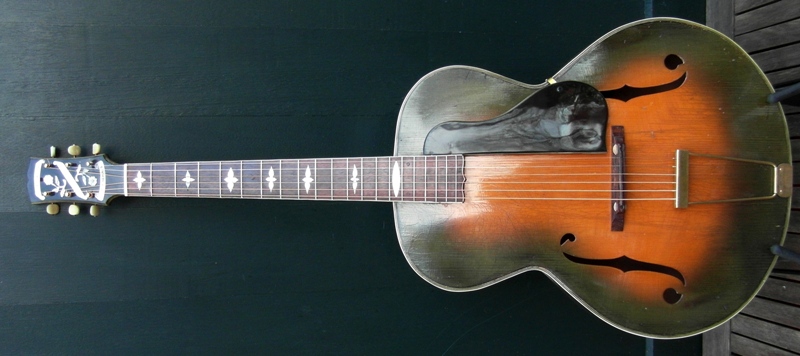 Stromberg DeLUXE : pictures
The museum purchased the instrument May 2011 online from Rick Kohl, We Buy Treasure, Kernersville, NC. No further history known. In 2014 the instrument was brought to the workshop of Dutch luthier Hans de Louter for restoration of the headstock overlay and body binding, see pictures below.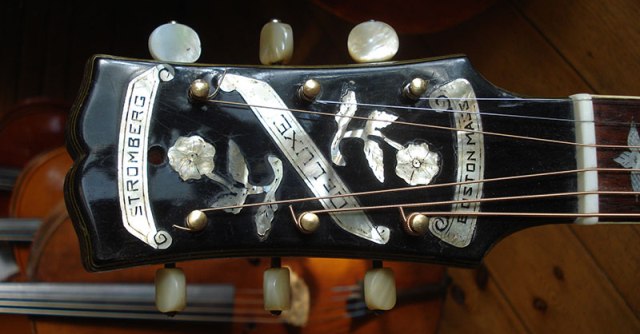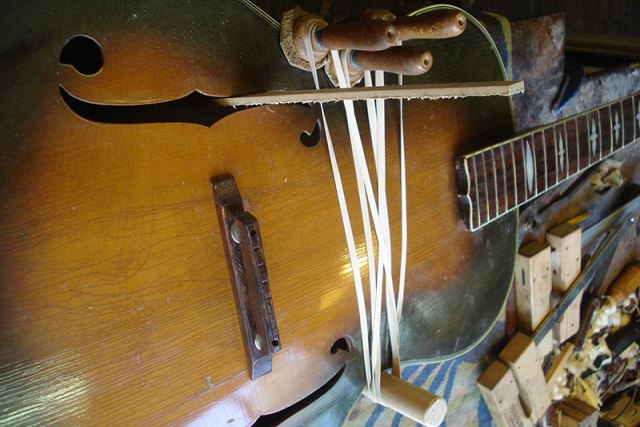 Fjestad : "Early G series (G1, G2, G3, Deluxe) from 1927-1930 had a 16 inch body and a label reading "40 Hanover Street, Tel Bowdoin 1228R-1728-M" (Stromberg´s current business card). Narrow banjo style headstock, Stromberg logo, Victorian style, hand-painted with floral accents. Fingerboard (G1, G2, G3) mother-of-pearl inlays, diamond shape, oval at 14th fret.
The Deluxe model featured solid pearl blocks position markers on an ebony fingerboard. The headstock was Victorian style, engraved, hand painted. Pressed back Indian rosewood or maple, carved spruce top, segmented f-holes. Trapeze style tailpiece brass with chrome plating on models G1, G2, and G3 (gold plated on the Deluxe model). All shared rosewood bridge with adjustments for bridge height, top location thumb adjustments. Bracing: two parallel braces, 3 ladder type braces.
Elmer Stromberg built all of the guitars and the majority of banjos. However, his name never appeared on an instrument, with the exception of a Deluxe Cutaway (s/n 634, a short scale made for guitarist Hank Garland). Every label read Charles A. Stromberg and Son." see label
References :
Ronnie Brooks : Freddie Green's 1940 Stromberg
Marcus Ohara : Stromberg guitars
George Gruhn : 1930 1940 Stromberg Archtop Jazz Guitar
Zachary R. Fjestad, Blue Book of Acoustic Guitars, 12th edition 2009, p. 641, 642
Jonathan Kellerman, With strings attached, 2008, pp. 278-286
Gruhn & Carter, Acoustic Guitars and other fretted instruments, 1993, pp. 195-200
Gruhn & Carter, Gruhn's Guide To Vintage Guitars , 2010, p. 617
Thom Wheeler, American Guitars, an illustrated history, 1982, pp. 349-351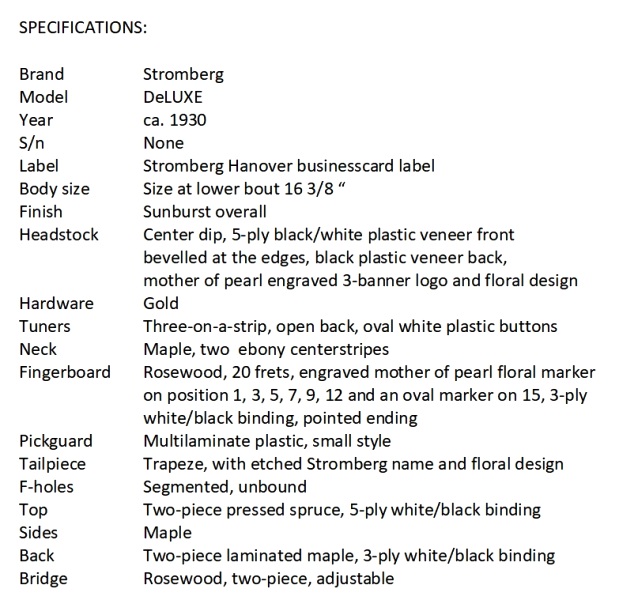 NOTE: The Strombergs used their business cards as labels in the guitars. The telephone number on the card helps to determine the approximate year the instrument was made. 1920: Bowdoin 1728-R or 1728-M. 1927: Bowdoin 1242-W. 1929: Bowdoin 1878-R. 1932-1945: CA 3174. 1949: CA 7-3174. (Wheeler, p. 350)