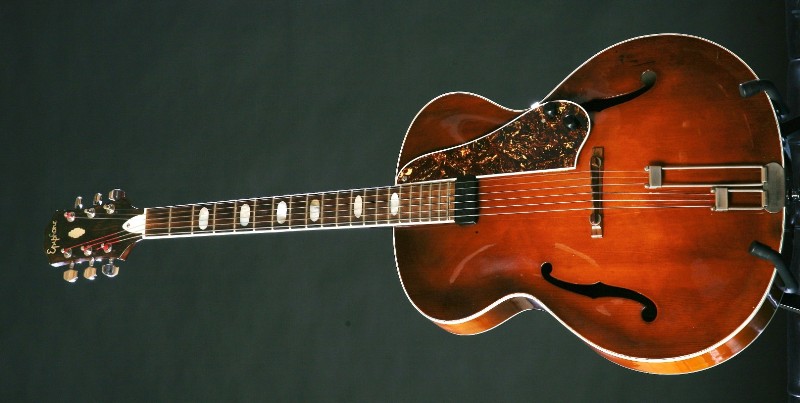 Devon s/n 66820 : pictures
The museum purchased the Devon s/n 66820 May 2009 at musicstore 't Speeltuygh in Zwolle, the Netherlands see picture The guitar is mentioned in Fisch & Fred (page 242).
The former owner, guitar teacher Steven Faber from Apeldoorn (the Netherlands) bought the guitar in 1999 from Dutch Luthier Hans de Louter see pictures De Louter purchased the guitar a couple of years before from Nello Weiss (see picture below), better known as Nello Mirando, guitarplayer in the Mirando Gypsy Orchestra. De Louter refinished the guitar in 1999 conform the original dark cherry sunburst finish and replaced the worn-out original tuners for modern ones. He also installed a vintage correct bound tortoiseshell pickguard and installed a floating Benedetto humbucking pickup with volume control to the pickguard.
November 2009 the guitar was brought to the workshop of Eric van der Hoeven who repaired some binding at the top of the right upperbout and installed new pickupcontrols. Electronics used: 500K log pot for volume, 250 K log pot for tone, 22nF capacitor, cotton insulated wire.