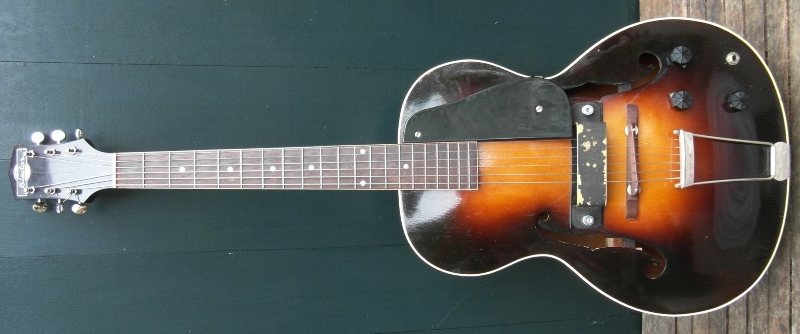 Model M Spanish s/n 1656 : pictures
The museum purchased the Epiphone Electar Model M Spanish s/n 1656 April 2016 on line from Bob's Used Guitars, Ravenna, OH, USA. No further history known.
Wiedler wrote us April 2016: "This appears to be a late 1937 example which has the 3rd rhythm control knob, and it sports the then new TruBalance pickup with adjustable poles and handrest (which replaced the horseshoe magnet pickup in that year). Judging from the Grover 12:1 ratio tuners, the guitar was probably completed and delivered not before early 1938. I also believe by this time the model had been renamed to "Model M Spanish" because the Model C Spanish was already introduced a while before (first documented SN 1537)."
The instrument is currently in the workshop of Eric van der Hoeven for inspection and proper setup. See also : Electar Bullet Microphone  and : Electar Super Amplifier
Japanese author Yasushi Kuboki published about the Electar sn 1656 in his book "The Legend of Charlie Christian", page 044 and in the Japanese "Guitar Magazine", February 2019, page 046.