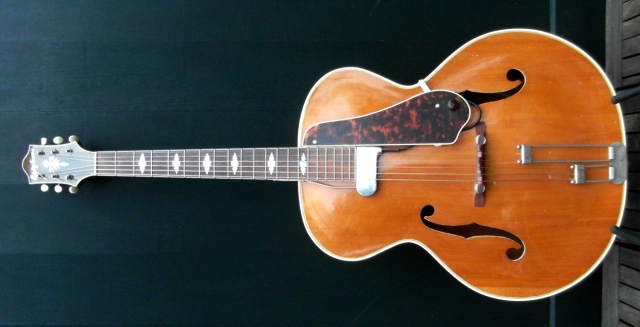 Triumph s/n 11227 : pictures
The museum purchased the guitar October 2010 on line from Michael Tachenko, Chattanooga, TN, USA, who bought it 2005 from Dave Hussong of Fretware Guitars, who purchased it from Dan Erlewine, Athens, Ohio. The guitar was fitted with a vintage DeArmond FHC with a single volume knob. Michael wrote us:
"The instrument was professionally restored by Fretware Guitars, Franklin, Ohio, where it was refinished natural because of the beautiful quilted back. The oval metal buttons were replaced by plastic ones." 
NOTE: Due to the newer applied natural finish, it is now visible that the instrument has a four-piece carved front and back instead of the standard two-piece front and back. The plates probably were not width enough at the lower bout, or were to unstable at the outher sides. Apparently Epiphone did not let any good tonewood go to waste. See also the Emperor s/n 14957 and a photo of the back of the Sorrentino Luxor.