The name "Epiphone" is a combination of the nickname "Epi" of Epiphone's president Epaminondas Stathopoulo (1893-1943) and the Greek word "phon". For a personal message from Epi Stathopoulo, see : catalogs 1932 & 1934
The Epiphone Company started in 1890 when Anastasios Stathopoulo officially opened his business at the age of 27 in Smyrna (now İzmir Turkey). In 1903 he moved to the United States of America and continued to make his instruments in Long Island City, Queens, New York. see pictures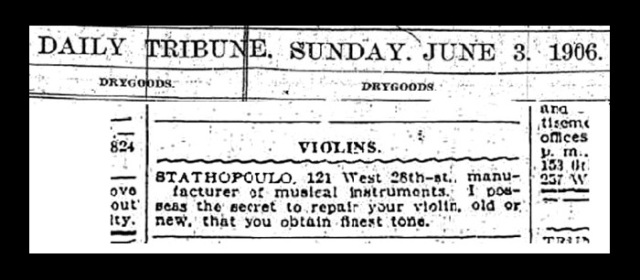 When Anastasios past away in 1915 his son Epaminondas – nicknamed Epi – took over and changed in 1917 his farther's brand name "A. Stathopoulo" to "The House of Stathopoulo".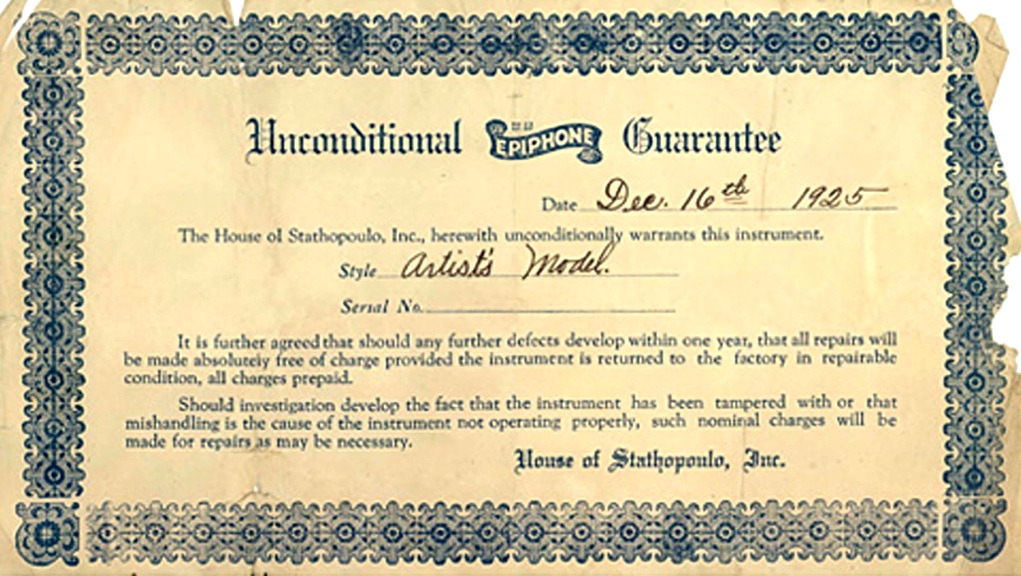 In 1924 Epi reorganized the family business and officially changed the company name to "Epiphone". In 1953 the company was sold to the C.G. Conn company. The family regained ownership in 1955, but was unable to resume full-scale production. In 1957 the company was taken over by CMI-Gibson. For a brief introduction on the history of Epiphone, see Alan di Perna : The House That Epi Built
EPIPHONE HISTORIC PLAYERS


Information about most of the players and endorsers pictured in the early Epiphone catalogs is hard to find. Therefore, if you have any information whatsoever about the players pictured in the galleries below, please let us know.
♦  GALLERY 1             ♦  GALLERY 2              ♦  GALLERY 3             ♦  GALLERY 4
" It is interesting to note the appearance of several African-American guitarists in the Epiphone catalogs. It is well into the 1940's before Epiphone's Kalamazoo rival would feature any African-American faces in its literature. Perhaps the contrast can be explained in part by Epiphone's cosmopolitan location in Manhattan, a considerable more vital crossroads for entertainment than Gibson's home base in the Midwest." (Fisch & Fred, p. 191)
---
References :
Felix Wiedler, NY Epi Reg
Epiphone, The Vintage Collection
Epiphone, Catalogs & Flyers & Price Lists
Paul Fox, Epiphone made brands
Continetal Music Company, catalog 1930/31, pp. 192-194
Chicago Musical Instruments, general catalog 35, pp. 115-123
Jim Fisch & L.B. Fred, The House of Stathopoulo, 1996
Walter Carter, The Epiphone Guitar Book, 2012
Walter Carter, Epiphone, The Complete History, 1995
Gruhn & Carter, Gruhn's Guide To Vintage Guitars , 2010
Gruhn & Carter, Acoustic Guitars and other fretted instruments, 1993
Ken Achard, The History and Development of the American Guitar, 1990
Thom Wheeler, American Guitars, an illustrated history, 1982
Zachary R. Fjestad, Blue Book of Acoustic Guitars, 12th edition 2009